How We Got Started
Inspiration
With Santa's generosity and the gift giving festivities, each Christmas, I became more aware of the huge bags of trash we were taking out to the dumpster. This became apparent when the trash chute in our building was on 'lock-down' because the trash was overflowing in the compactor. At that point, we needed to walk our trash bags of torn-up but used-only-once wrapping paper, ribbons, boxes and bows down to the side of the receptacle, as even the extra trash dumpsters (delivered in anticipation of the Christmas overload) were all overflowing. Considering we recycle our 8 ½ x 11 INCH letter-size paper at the office, the large sheets of torn up wrapping paper we were dumping left me feeling very careless (not even considering the cost of the fancy paper and adornments).
In addition, I noticed that I wasn't enjoying having to wrap so many gifts. It almost became a task taking out the papers, tissue, boxes, ribbons and bows – measuring, cutting, taping, and tying – putting it all away – and then taking it all out again to wrap a few more gifts which I would, undoubtedly, always forget until the last minute when I was completely out of time. Probably less enjoyable was taking out all the wrapping supplies (from our very cluttered closet) to wrap just one single gift for a birthday party or wedding we were attending.
There were alternatives, I could use newspaper comics which can get a little messy, pretty fabric bags which are just that – bags – which seem to lack the anticipation of unwrapping, or pretty paper bags which I still needed to fill with tissue and tie some ribbon to. I knew there was an answer to the waste of resources and time … M'doridori.
Background
Born and raised in Hawaii, as a young girl, my parents enrolled me in Japanese dancing lessons despite my begging to learn hula (I thought the poi balls and the pu'ili fun!). The favorite part of my lesson was wrapping my kimono in a traditional furoshiki (Japanese wrapping cloth) after my lesson was over.
M'doridori
The furoshiki is a really neat tradition with many uses dating back centuries in Japan, including its use as a gift wrap. This pretty cloth can be fashioned in many designs, but lacks the traditional 'bow' which is the finishing touch on gift wrap as we know it. One of the ways M'doridori updates the furoshiki is with an integrated bow. Not just a ribbon, but an actual elegant bow. After re-working the design many times – to ensure ease-of-use and a sleek 'real gift wrap look' which was elegant, sophisticated and beautiful – M'doridori is the evolved giftwrap!
Innovative –Patented M'doridori requires no wrapping skills to enhance a gift in beautiful wrap

Environmentally Friendly – M'doridori is intended to be gifted many times forward as each receiver becomes it next giver

Aesthetic – M'doridori discerningly enhances a gift with its elegant beauty and style

Easy to Use – Anyone that can tie a shoelace can use M'doridori (my 10-year old son was beaming the first time he used M'doridori and produced an actual custom wrapped gift!)

Fast – A gift can literally be completely wrapped in under a minute

Efficient – No paper, tape, scissors, ribbons, boxes or bows needed – M'doridori is complete – even a box is not needed, as M'doridori comes packed with a cardboard insert to use as a base for wrapping items such as clothing, stuffed animals or many small things wrapped together

Convenient – Even when travelling, a M'doridori can be used to quickly wrap gifts upon arrival (unlike traditional gifts with crushable bows that need to be hand carried or end up smashed)

Romantic – An anniversary, birthday or Valentine's gift can easily be enhanced with an elegant M'doridori (a gift quickly wrapped in the car right outside the door will still look absolutely gorgeous!)

Profitable – M'doridori can be used by retailers to offer elegant gift wrapping as a value-added service to their customers and generate additional sales (gone will be long lines in the wrap department with M'doridori's efficiency!)
Sustainability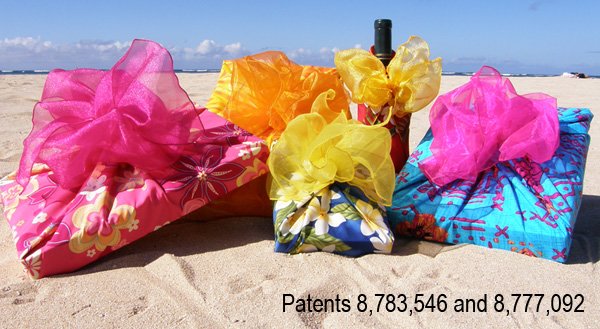 M'doridori addresses our planet's ultimate goal of Reduce-Reuse-Recycle at its highest level –Reduce. As a fabric wrap, M'doridori eliminates paper consumption, and therefore, completely removes the need for recycling. M'doridori consumers are not only able to enhance their gifts with unique and beautiful wrapping, but more importantly, M'doridori consumers are giving the additional gift of awareness and enablement in developing a more ecologically friendly mindset and easily executed behavior concerning gift wrapping. In this sense, M'doridori is a tool or a process which is begun by the original purchaser of the product, but perpetuates as the receiver thereafter becomes the giver when using the M'doridori on the next gift he or she is giving. Thus, the term 'gift it forward', and in doing so, spreading awareness and promoting ecologically responsible behaviors to the receivers of gifts wrapped in M'doridori.
Thank you
Thank you for visiting our website and reading our story. And thank you for beginning an environmentally conscious process and 'gifting M'doridori forward'. Give gorgeous gifts … M'doridori!
Stacy Uyehara
M'doridori Inventor
Patents 8783546, 8777092, D739184 and D754445